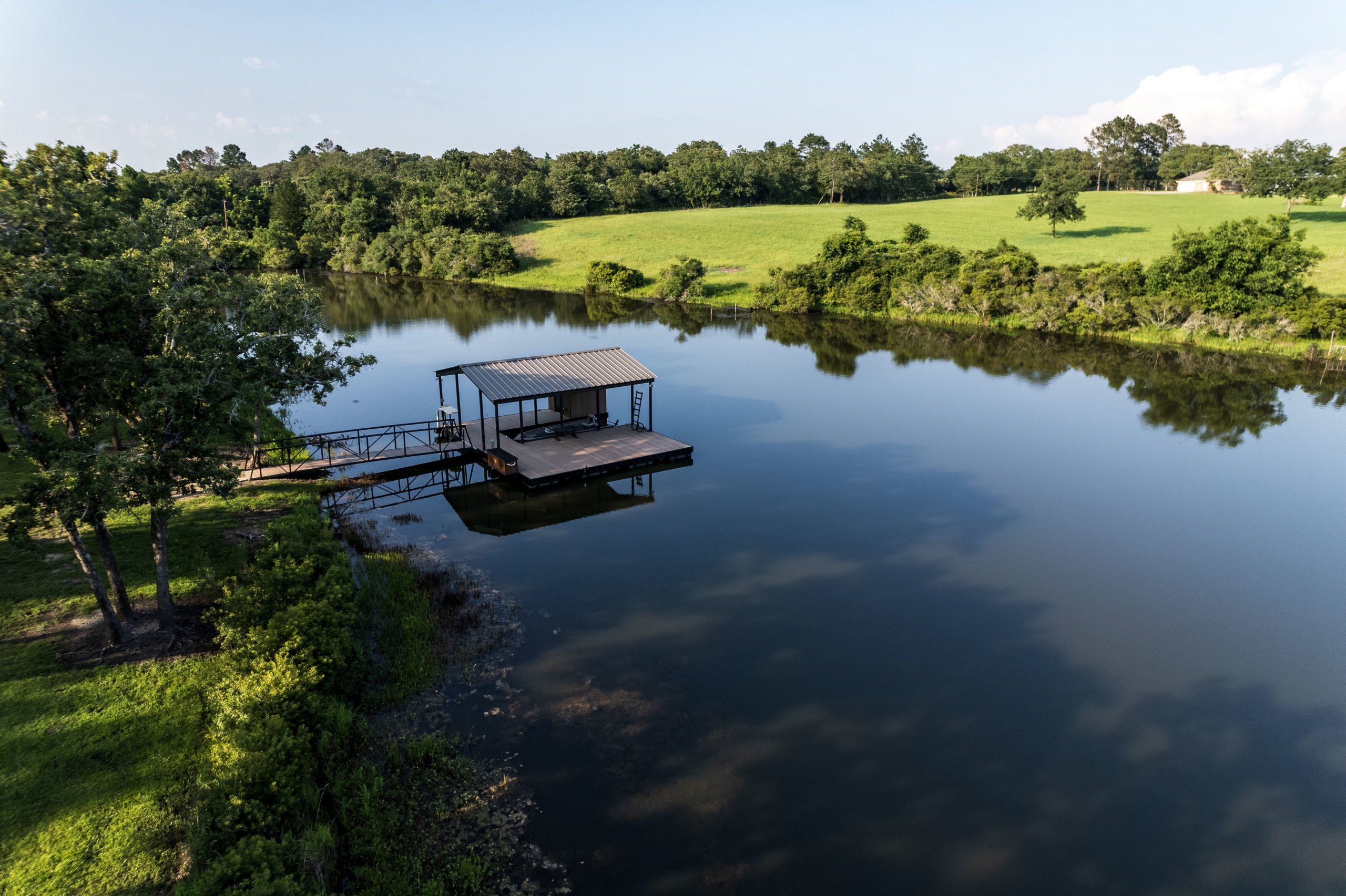 Fish for stocking private ponds & lakes
Fish stocking is the tried and true method for maximizing the productivity of your fishery.
Over nearly two decades, Lochow Ranch has become the trusted partner for pond stocking fish for sale throughout Texas, Louisiana, Arkansas and Oklahoma.
We carry Florida strain bass, native strain bass, crawfish, trout and many other varieties of fish for stocking.
stocking to meet your goals
Whether you want a trophy bass fishery or a spot for casual fishing fun, we can supply the right quantities and types of fish to meet your goals.
Our biologists and pond management experts will bring you our decades of experience in creating thriving fisheries across the region. 
If you're stocking a new pond, we provide an initial stocking proposal based on the size of your pond and the types and quantities of fish to meet your goals. If you are stocking an existing lake, a fish population survey can determine which species need to be stocked to bring your lake to its true trophy-growing potential.
Wide variety of fish for stocking
We stock the range of pond stocking fish that are popular for private ponds, including bass, trout, sunfish, catfish, crawfish and forage fish. Many other species are also available, so please call for specific requests.
We provide a wide variety of fish in a large range of sizes, so we're certain to be able to meet your needs. All fish are guaranteed disease-free and we offer complete satisfaction.
Our stocking service is the choice of private lake and pond owners throughout the region. 
Our fish are always transported with liquid oxygen, in custom fish-hauling trucks and trailers, to ensure their health while en route.
Your fish will arrive healthy and ready for their new home.
Turnkey Lake & Pond Management
Stop worrying about your lake and start enjoying it with our turnkey lake management for water quality, weed control, predator control, seasonal maintenance and other tasks. 
Pond Stocking Fish for Sale
Grass Carp
Description:
BIOLOGICAL CONTROL
AVAILABLE IN SIZES FROM 8-12 INCHES
CALL FOR AVAILABILITY
Tilapia
Description:
FORAGE FISH
AVAILABLE IN SIZES UP TO 12 INCHES
AVAILABILITY: SPRING AND FALL
Goldfish
Description:
FORAGE FISH
CALL FOR AVAILABLE SIZES
AVAILABILITY: ALL YEAR
Crayfish
Description:
FORAGE
CALL FOR AVAILABLE SIZES
CALL FOR AVAILABILITY
Bullfrog tadpoles
Description
FORAGE
CALL FOR AVAILABILITY 
Fathead minnow
Description:
FORAGE FISH
AVAILABLE IN SIZES UP TO 2 INCHES
AVAILABILITY: ALL YEAR 
Golden Shiner
Description:
FORAGE FISH
CALL FOR AVAILABLE SIZES
AVAILABILITY: ALL YEAR
Threadfin Shad
Description:
FORAGE FISH
AVAILABLE IN SIZES FROM 1-4 INCHES
AVAILABILITY: FALL TO SPRING/ORDER EARLY
Rainbow Trout
Description:
FORAGE FISH
CALL FOR AVAILABLE FISH SIZES
CALL FOR AVAILABILITY
Redear Sunfish
Description:
GAME FISH/FORAGE FISH
AVAILABLE IN SIZES FROM 1-8 INCHES
AVAILABILITY: ALL YEAR
Coppernose Bluegill Sunfish
Description:
GAME FISH/FORAGE FISH
AVAILABLE IN SIZES FROM 1-8 INCHES
AVAILABILITY: ALL YEAR
Channel Catfish
Description:
GAMEFISH
AVAILABLE IN ALL SIZES
AVAILABILITY: ALL YEAR
Hybrid Striped Bass
Description:
GAME FISH
CALL FOR AVAILABLE SIZES
CALL FOR AVAILABILITY
Smallmouth Bass
Description:
GAME FISH
CALL FOR AVAILABLE FISH SIZES
AVAILABILITY: SPECIAL ORDER


Largemouth Bass Florida Strain
Description:
GAMEFISH
AVAILABLE IN ALL SIZES
AVAILABILITY: ALL YEAR
Largemouth Bass Native Strain
Description:
GAMEFISH
AVAILABLE IN ALL SIZES
AVAILABILITY: ALL YEAR
Call 866-422-9022 or fill out the form to learn more
Ask us about
Lake and pond management

Pond stocking: bass, trout, forage fish, crawfish, bluegill, grass carp, minnows and many other fish for stocking 

Fishery management

Seasonal pond maintenance

Control of pond weeds

Electrofishing and fish population surveys

Floating docks and recreational features
Pond or lake design, construction, excavation and renovation
Shoreline design, erosion control, dam leak repair, and dam maintenance